The Gatorade brand, which PepsiCo owns, is introducing its first-ever water product to increase its market share in the hydration market.
"With entrances into new categories including Water and Energy, alongside a string of recent low and no sugar hits like Gatorlyte and Gatorade Fit in the last two years, the Gatorade Portfolio is the most complete offering on the market today across energy, hydration, protein and all-day nutrition," Gatorade said in a statement.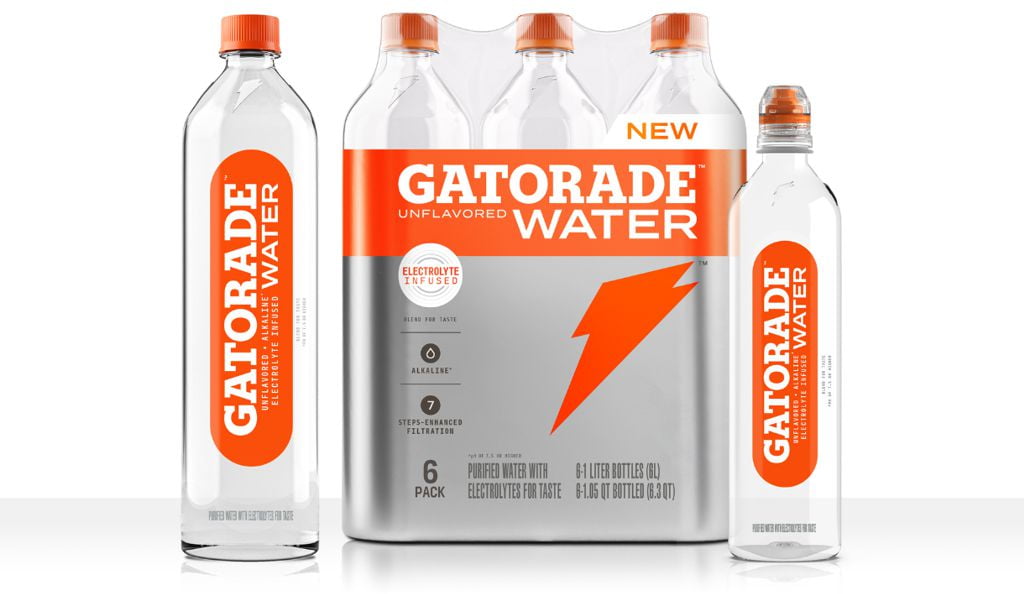 According to the company, the premium water option is a zero-calorie unflavored alkaline water, purified with a "7-step, enhanced filtration process," and containing 65 to 90 milligrams of sodium in the 700-milliliter or 1-liter bottles, respectively. Sodium, which is an electrolyte, makes Gatorade Water an option "for somebody that is looking for all-day hydration,"
The levels of electrolytes in Gatorade Water are far below that found in traditional Gatorade, which has sodium and potassium, plus sugar (carbohydrates) or the product line's 2021 addition Gatorlyte, a rapid rehydration beverage with more electrolytes than Gatorade. Another recently launched beverage, Gatorade Fit, marketed as "healthy real hydration," has vitamins and less sodium, sugar and carbohydrates than Gatorade.
Mike Del Pozzo, president and general manager of the Gatorade Portfolio, said: "The Gatorade portfolio continues to play in a league above our competitors by providing athletes with the most complete portfolio of performance and wellness solutions on the market. Gatorade Water will bring the trust and credibility of the Gatorade bolt to the water aisle, adding unflavoured alkaline water as yet another solution for active people."
Emily Boido, senior director of marketing at Gatorade, added: "Today's athletes and active people are looking for solutions not only in the heat of performance but also throughout their full day. Gatorade Water is a direct result of this consumer need. With the launch of Gatorade Water, we're bringing active people an unflavored alkaline water option that is electrolyte-infused for a refreshing and crisp taste and is from a brand they trust."